The ISO 20121 – Sustainable Events, just like other standards within the ISO family, is a voluntary standard. This particular standard aims to make a positive impact on the world we live in. ISO 20121 – Sustainable Events, is a practical tool for managing events so that they contribute to the three dimensions of sustainability:
Who can benefit from ISO 20121 – Sustainable Events
ISO 20121 – Sustainable Events provides a state-of-the-art solution for the event industry. The three abovementioned dimensions are kept as a target of where the impact is to be focused. The certification benefits all actors involved in the organisation, throughout all the supply chain, including:
event organizors
workforce
supply chain
participants
With this in mind, any company that organizes events, and that wishes to reap the benefits brought by through ISO 20121 can benefit from this certification. Benefits for certification against this standard include:
Best Business Practice – following best-in-class practices on how to handle all the logistics of an event
Reputational advantage – using a recognized international framework for certification, your events company can demonstrate its actions in a credible and transparent way
The ISO 20121 Management Systems
The management system for ISO 20121 requires to focus on 2 main pillars relating to the running of a business. Specifically, preparing for the management systems by creating the required documentation and procedures. Creating the systems required for internal monitoring.
Preparing for the management system
Policy
Context of the organisation

Internal and external issues
Expectations of stakeholders
Purpose of the system
Reference standards (ISO45001, ISO 14001, and SA8000) and regulations and any other agreement with customers, public authorities etc

Management commitment & leadership
Planning, objectives and targets
Resources allocation

roles and responsibilities of all the staff & competances
communication
equipment
infrastructure
documented information

Operational planning and control

Sales
Operations
Purchasing
Design & Development
Measuring quality results

Performance evaluation (including internal and external audits)
Improvement
Internal monitoring
Organise and document audits (internal and external)

plan audits
define the criteria and the boundary
keep records
action improvement

Define whether the management system:

complies to the legal requirements
is effective
allows to obtain the pre-determined sustability objectives

Implement management reviews to evaluate:

changes in context and challenges
progress of the actions
performance
non-compliance and corrective action
opportunities for continual improvement
communication with stakeholders
the degree to which objectives are met
A good start to evaluate the extent of the considerations suggested by this standard follows:
Documented information required for ISO 20121
Say what you do, do what you say is the famous quote surrounding ISO Certification. And that means that you have to first articulate what you'd like to be doing when running your processes, and then to having proof (documents) to show that you did as you intended to do.
The following is a full list of documents required for ISO 20121 Certification.
Identification and engagement of interested parties (4.2)
Determing the scope of the event sustainabiluty management system (4.3)
sustainable development principles, statement of purposes and values (4.5)
Policy (5.2)
event sustainability objectives and how to achieve them (6.2)
supply chain management (8.3)
monitoring, measurment, analysis and evaluation (9.2)
Implementing ISO 20121 – Sustainable Events
ISO 20121 is based on the overall structure of ISO 9001 and other Management Systems within the ISO Family. This makes it easier for Management Consultants such as Luke Desira, an ISO Consultant to streamline the implementation for this standard, as they would not have to relearn a new structure for the standard.
This means that this standard is based on the PDCA (Plan, Do, Check & Act) Cycle, and that the standard is distributed over the following 10 clauses.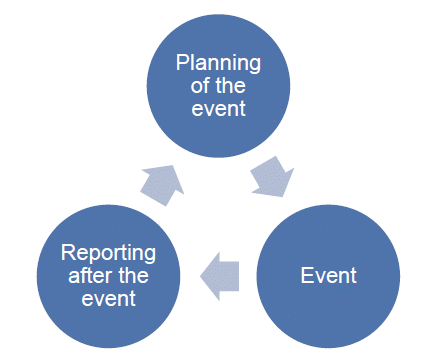 Clauses 1-3
Like with other standards within the management systems family, these three first clauses are relatively vague and cover:
Scope
Normative references
Terms and Definitions
Clause 4
Understanding the organization and it's context
Understanding the needs and expectations of interested parties
Determining the scope of the event sustainability management system
Event sustainability management system
Sustainable development principles, statement of purpose and values
Clause 5
Clause 6
Event sustainability objectives and how to achieve them
Clause 7
Resources
Competence
Awareness
Communication
Documentation information
Clause 8
Operational planning and control
Dealing with modified activities, products, or services
Supply chain management
Clause 9
Performance against governing principles of sustainable development
monitoring, measurement, analysis and evaluation
Clause 10
Benefits of ISO 20121
Cost saving – through lower energy consupmtion, decreased waste and buying local products
Positive reputation – a green event is a visible demonstration of the company's commitment to environmental and social responsibility
Environmental innovation – results follow focus. by looknig at new ways of doing things, you will be promoting innovative technologies and techniques that help to use resources more efficiently.
Social benefits – by planning and conducting events that leave a benefit to the surrounding area, creating employment opportunities and giving priority to local suppliers.
These benefits can be enjoyed by anyone getting ISO 20121 certification, namely:
organisations responsibile for the management of the event
organisations offering services within sustainable events (catering)
faciliaties and platforms where you can carry out events
ISO 20121 Certification Process
The criteria that the certification body follows for the ISO 20121 Certification process is as follows. The first thing to look at when reviewing a quote from a certification body is the man-hours.
For a company of fewer than 5 people, they will need a 1-day audit. 
The number of attendees is also taken into consideration – for less than 1000 people per event, it is a 1-day audit. 
Also, if the cost of the event, more than 50% of the cost of the event is outsourced, we have to add more days because we have to audit the suppliers. And here we add 20% more on 2 days – which is around 2.5 days.
Irrespective of the number of days for the audit, they will look at:
Design of the event (a rough certificate will be issued at this stage, stating that the company has started the certification process)

Risk evaluation relating to all internal/external issues, as per table C.1 when designing each event – to define what elements need to be considered for each event
Must inform the suppliers that we are going to do a sustainable event, and that they supplier must sign an agreement to confirm that they are interested in sustainability, as follows:

Quality
Price
Sustainability

Define which control points will be done to ensure that we are ensuring that our suppliers indeed match the quality, price and sustainability promises made at the quote stage.

Deployment of event – they will need to come to the event to see part of the execution of the event
Reporting on sustainability metrics

For example measuring the carbon footprint per participant
But note that sustainability is not only about the environment – it is also about the social point of view and competitiveness (example percentage of cost of event that is given to local companies, or the number of disabled people employed to run the event, or how we have helped blind people to attend the event).
During their office audit, they will check that the company is taking into consideration the list of issues for organizations to consider in fulfilling issue identification and evaluation. This list has been explained above.
Conclusions re: ISO 20121 – Sustainable Events
From the above 10 clauses for ISO Certification is can be easily seen that the overall structure of this standard is very similar to ISO 9001 certification. Having said that, the requirements of Clause 8 change to meet the specific requirements of this standard. With that in mind, it is strongly encouraged for companies to not get certified against this standard in isolation – but rather to get this certification as part of a management system.