Certification to ISO 22000 Certification – Food Safety Management, is a major milestone for aspiring companies within the food industry. In a previous post, we have already discussed the various management systems that exist within the ISO family.
In this post, we will go deeper into what ISO 22000 Certification – Food Safety Management really is.
ISO 22000 Certification – Food Safety Management vs HACCP
Therefore, the fundamental difference between HACCP and ISO 22000 is that:
HACCP is a control plan
ISO 22000 is a management system
Who needs HACCP?
The Hazard Analysis and Critical Control Point, also known as HACCP has been widely discussed and adopted in Malta. As per a document that was issued by the Department for Environmental Health in Malta, clear guidelines have been implemented on the power and duties of the Health Inspector(ate). In this document, a clear definition of who needs HACCP, Flexi HACCP or a PRP is defined. The follow entities are required to have a full HACCP plan:
Manufacturers:

Baby food – mil, non-milk excluding pasta
Cook-chill – production for distribution only eg children/frozen ready to eat foods
Non-alcoholic drinks

Service:

Hotels
Caterer
Hospitals
Old People's homes
Meals-on-wheels
Prerequisites (PRPs)
Irrespective on whether the company is listed in the above types of businesses, there are certain prerequisites that must be appled in all food businesses as stipulated in EC Regulation 852/2004, namely:
Cleaning / Sanitation
Pest Control
Waste management
Personal Hygiene and training
Plant & Equipment
Zoning
Premises and Structure
Services (eg water, energy and drainage)
Storage, distribution and transport
Labelling and packaging (contact material)
Additives
Traceability
Product Release and Recall
Calibration
Acceptance and Rejection of Goods
Requirements of HACCP
Unlike ISO 22000, HACCP is a Hazard Analysis and Critical Control Point – this means that individual risks are to be identified and treated whilst doing HACCP. The 7 HACCP Principles are:
Conduct Hazard Analysis
Determine Critical Control Points (CCP)
Establish Critical Limits
Establish system to monitor control of CCP
Establish corrective action
Establish verification procedures
Establish Documentation & Recordkeeping
Requirements of ISO 22000 Certification – Food Safety Management
Just like other management systems, the ISO 22000 is split over 10 Clauses. As can be noted, the requirements of these 10 clauses are not very different from the requirements for ISO 9001 Certification.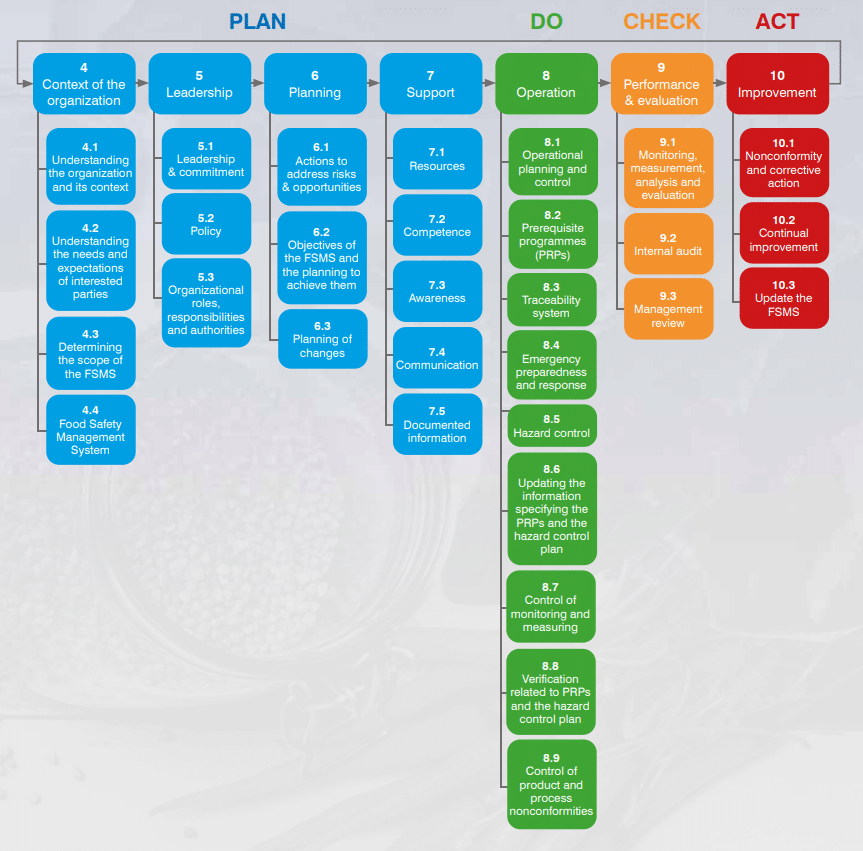 Just like with other Management Systems within the ISO Family, most of the information is contained in Clause 8. In fact, for ISO 22000, the only 2 elements for a safe management system to handle food are:
Assemble HACCP Team – Clause 5.3
Establish documentation and record keeping – Clause 7.2
Requirements of Clause 8 within ISO 22000
So, what does the ISO 22000 ask us to do (over what is required for ISO 900) to ensure that we are consistently delivering a high quality product to our food-business customers?
8.1 – Operational Planning and Control – plan, implement, control, maintain and updated processes to deliver the product to the customer
8.2 – Prerequisite programs – PRPs are a key aspect of any food safety system, and have been define above
8.3 – Traceability system – including the reconciliation of quantities (end products vs ingredients)
8.4 – Emergency Preparedness and Response – a risk assessment on what can go wrong, and the implementation of specific measures
8.5 – Hazard Control – practically relates to doing a HACCP, and the idea is to identify, prioritize and mitigate certain hazards
Conclusion: ISO 22000 Certification – Food Safety Management
If you are operating in the food industry, ISO 22000 will most likely be required by your clients or suppliers now or in the coming future. Having said that, the benefits of ISO Certification when implemented by an experienced ISO Consultant greatly outweigh the cost for ISO certification.
If you'd like more information on how you can implement ISO 22000 within your business, feel free to get in touch on lukedesira@gmail.com or +356 79206686, and I, Luke Desira, would personally commit to helping your reach your business goals.