The Management Review Meeting for ISO 9001 could possibly be the primary source for continual improvement.
First of all, I'd like to explain the difference between data and information:
Data – raw numbers. For example, a filled in customer feedback form (or 15 of them) – stacked on top of each other.
Information – processed data. For example the average score from the above 15 customer feedback forms.
Knowledge – the personal experience, intuition and education that a person has, when combined with information can enable that person to extract knowledge – and infer facts about a particular situation.
Wisdom – when the knowledge acquired is used in a situation that is beneficial to the person using it – that is wisdom.
The DIKIW Method
It is clear from the above, that Data is hardly useful. It is raw, and no processing has been done. At face value, a problem might be bigger or smaller than it is. The information enables us to identify trends.

The below video, provides an example of how data, information, knowledge and wisdom would play out for an insurance company.
How is this relevant to me?
Most businesses in Malta are SMEs. Business owners tend to have their finger in every pie that their organization deals with. This results in them having an overview of most activities that are going, and gives them a false sense of security that they are in control over what's going on within their organization.
No matter the size of the organization, there are always many things going on in an organization, and it is impossible for one person to have a realistic view of what is going in their organization. They would be able to recall some of the details, but no all details in the same level of detail. This is because their opinion is skewed. And this is not their fault. Our subconscious mind is designed in a way that performs selective memory loss, as a coping strategy – not to become overwhelmed with everything that's going on in their business.
Management Review Meeting for ISO 9001
For effective management of an SME, a business owner would therefore be much better off by creating systems that provide a visual representation of the present situation with the company. Ideally, the information of the present is also compared to previous periods, to notice and positive or negative trends as they develop.
The following are the key factors that one must consider in a management review meeting. Not all of the below actions require data management. For those metrics that would benefit from visual management, an appropriate visual aid will be shown within this blog
Managing Improvement Projects
Status of actions from previous management reviews
As explained in ISO for service-driven organizations, a project management tool will surely help any business to monitor its projects. Actions resulting from Management Review Meetings for ISO 9001 are projects that need effective task management. Below is an image of a task, being monitored through Trello, a project management system tool.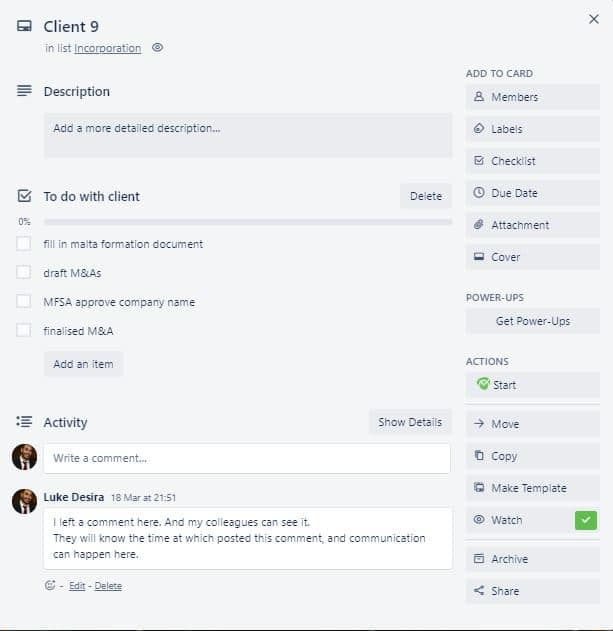 Changes in external and internal issues relevant to QMS
Internal and external for ISO 9001 issues were covered in a previous post. In the management review meeting for ISO 9001 we will need to evaluate whether there were any changes that could affect our business.
Nonconformities and corrective actions

Visual Management
These are the metrics of utmost importance for the organization, to the level that ISO has advised us to periodically review them during Management Review Meeting for ISO 9001.
Customer satisfaction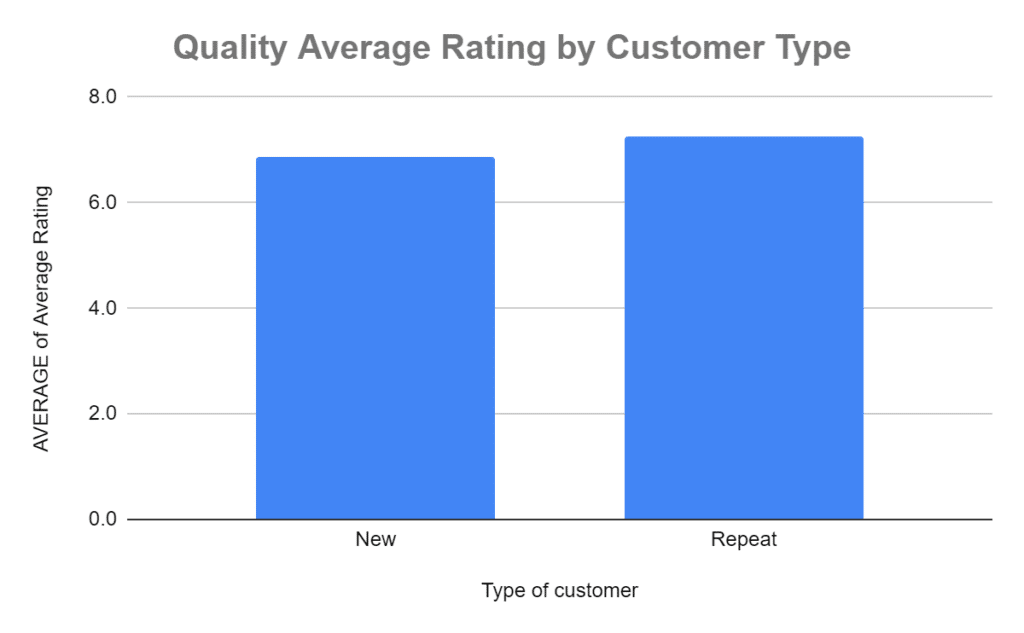 Here we can see that the repeater customers have a better perception of our business. Without context, this doesn't mean much. But if we take an example of a Company who sell switches, for instance. Repeat customers are contractors who purchase products en-mass, for their clients' premises. They will not be the end-user.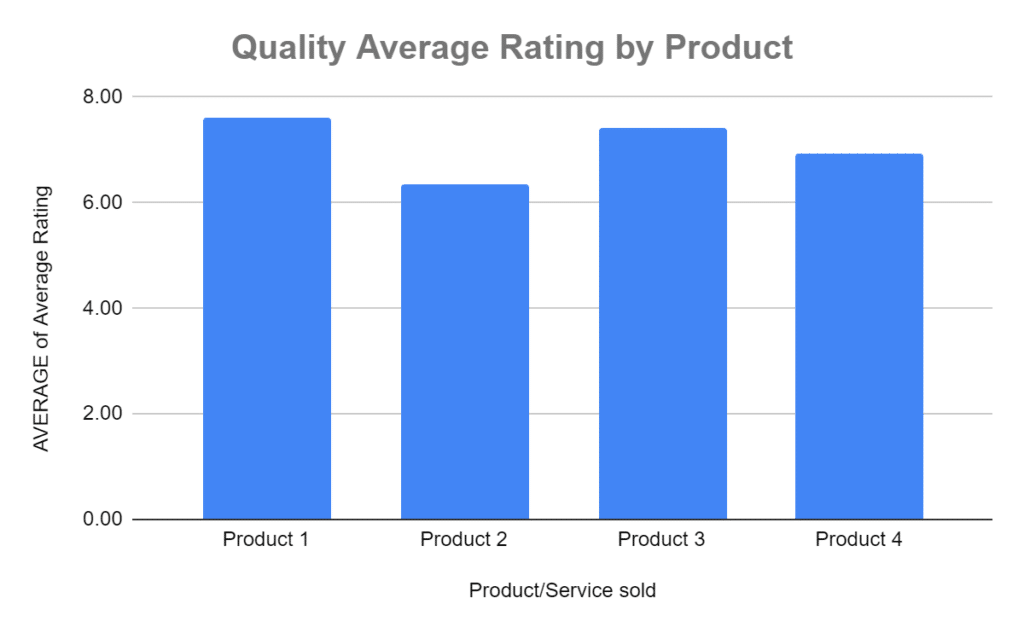 Here we are seeing that customers who buy Product 2 have the worst rating. Which can be linked to the previous chart, knowing that Product 2 refers to smart switches, that are only purchased by end-users.
Performance of external providers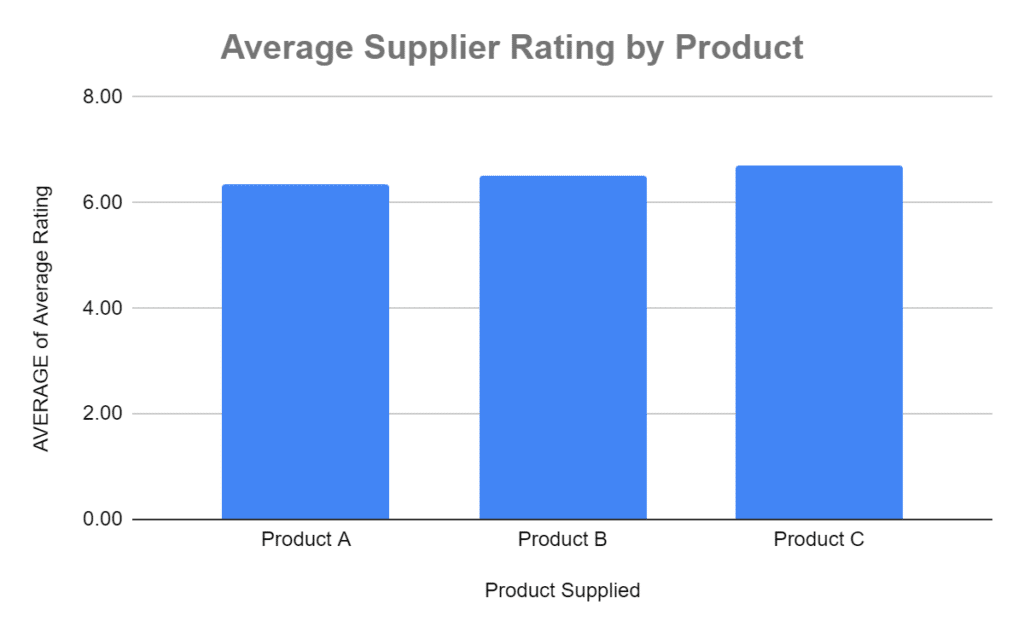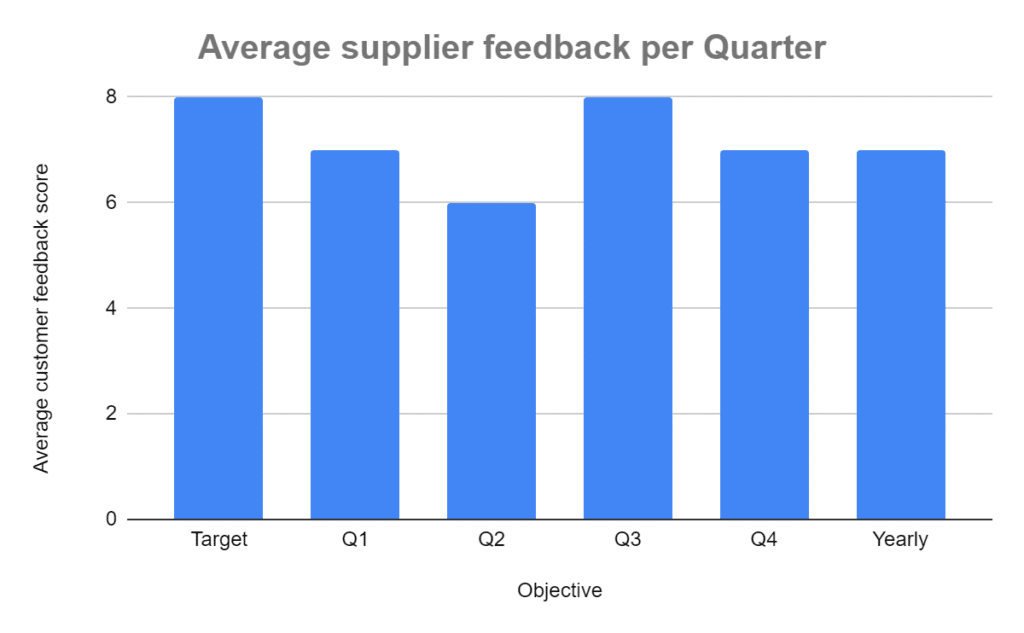 Quality objectives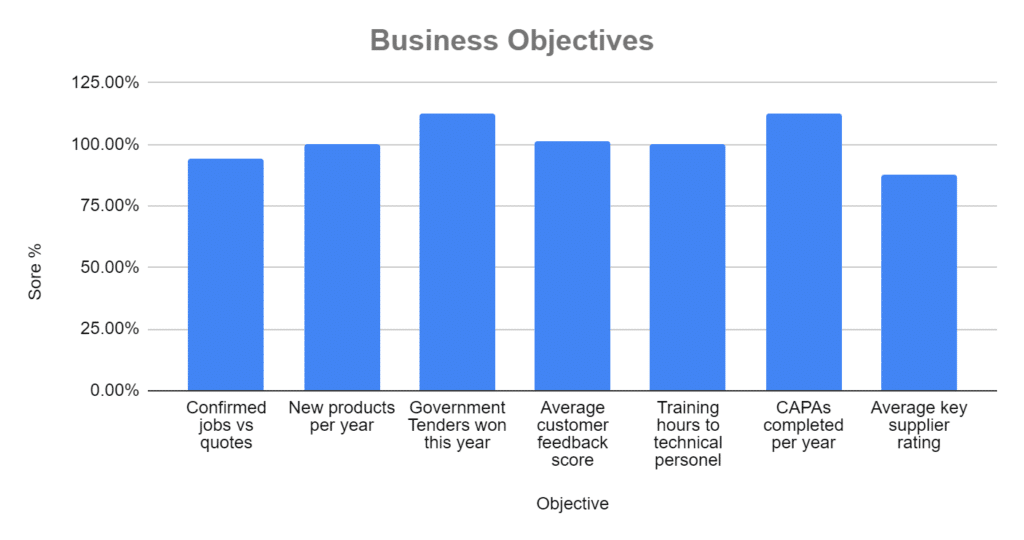 Observations through Visual Management
Conclusion on a strategy based on the above information combined with personal experience of the business owner and the ISO 9001 consultant.
End users, meaning B2C have a worse perception that B2B clients. Particularly, clients purchased product 2 (smart switches) do not perceive our company as offering good customer satisfaction.
All suppliers have a relatively low rating, particularly Product A which relates to premium products. We can also see that in Q3 there was a huge improvement in the performance of suppliers – which means that supplier performance can be improved with internal actions as in end Q2 we had contacted some of the suppliers, CAPA Ref. 123.
Now the business objectives are showing a nice picture of the company, however, it could be because none of the goalas relates to profit. If we consider profit too, we might have this situation:

The lower mark-up for larger projects (B2B contractors) is generating more profit. These are :

Mostly repeat clients – these clients have a good perception of our business
Suppliers for these products have a good product/service quality
We have exceeded our target for the number of tenders won <> we are good at handling large projects – have a cost-effective solution for large projects
The company might want to focus more on larger projects with subcontractors and tenders, and gradually reduce their focus on B2C clients.
Feedback from relevant interested parties
As part of the implementation process, we must define what the various interested parties require out of our management system. In an earlier post, we have discussed in detail, with examples of requirements of interested parties. Every MRM, we must review the suitability of such requirements.
Audit Results
An internal audit for SMEs following ISO 9001 principles is aimed at identifying the missing links within the processes. During the management review meeting, we will review the observations, finding and non-conformities that were identified during the audit. The aim of this exercise is to actually implement some changes with the aim of improving the management system.
Adequacy of resources
Given that the internal and external issues of the organization might change over time, we must reevaluate whether enough resources are being placed at the right areas.
Effectiveness of actions taken to address risks and opportunities
Risks and opportunities are the most important addition to the new, and current version of the ISO 9001:2015. The risks and opportunities change over time, either because we take action to mitigate risks or to seize opportunities. Or because circumstances change, and we must identify new risks and opportunities.
In any case, the standard requires us to review the effectiveness of actions taken to address risks and opportunities, in the sense that the actions defined as part of the management system should not be simply documented, and left there. Rather, we must ensure that the management system is a live document, that is continually updated, and reviewed as the needs of the organization change.
Opportunities for improvement
Ideas for improvement may come through various sources, including the internal audit, non-conformities and other sources. Having a centralized location for storing such ideas, makes it easy to refer to such a list during the management review meeting, to identify, priorities and implement opportunities for improvement.
Define, plan, and allocate resources on action items for continual improvement defined during this management review meeting
Finally, as with any other project hat is destined for success, whenever an idea for improvement is identified, it must be actioned in a professional manner. Meaning, that it should not just be a side project that someone is working on. Rather, we must define, plan and allocate the resources needed to see all actions for improvement through.