Customer satisfaction is a very important aspect of ISO 9001. As we have discussed in earlier posts, having an ISO Certification doesn't mean that you will have a good quality product.
Rather, an ISO Certification, by a reputable certification body, means that you have a strong management system through which you are obtaining real data about the quality of your product, and the effectiveness of your processes. The aim of this is to have multiple sources through which you can get ideas for improvement.
Customer Satisfaction – the requirement for ISO 9001
As with any other clause within the ISO 9001 standard, the requirement doesn't clearly articulate how the requirements of the standard are to be met. Naturally, depending on the industry in which the company operates, there might be different implementation tactics that are relevant.
However the standard makes it clear that:
The organization should monitor customer perceptions of the degree to which their needs and expectations have been fulfilled and must determine the methods for obtaining, monitoring, and using this information.

Clause 9.1.2 – ISO 9001:2015 – the current version of the ISO Standard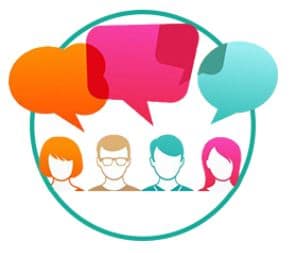 Examples of Customer Satisfaction for ISO 9001
Depending on the circumstances of the company, there are various tactics that can be used to ask customers what their perception of our company and products are.
Online
SMS Surveys – after the client has made us of the survey, send an automatic SMS to the customer, asking them to rate your service. This is typically used in a call centre environment – for example, a bank, insurance, a telecoms company.
Social media polls – a rather daring move, and should only be used by companies who have been gathering customer feedback (and acting on it) for a long time. Asking your customers what they think about your brand online is a strong way for new customers to see the benefit of your brand. It is extremely important to reply to each of the comments – both positive and negative – in a professional way.
e-mail signature mechanism – a passive way to gather feedback, would be to have a link on your email signature with a suggestion to rate your service/product. Naturally, clients at different stages of purchase can see this and might result in skewed data. However, it is a simple-to-implement, very low-cost example that can give you an additional source of data. You can use Google Forms to collect this information.
Social listening – depending on the size of your brand, people will be talking about your online. There are many groups on Facebook whereby people can post their opinions. Checking out what people are saying about your brand (behind your back), is an excellent strategy to know the truth of what people think about you.
Offline
Physical paper – for me, nothing beats the old-school, pen and paper customer feedback. For example, for a travel agency offering group travel, your tour leader could hand out these forms, asking people what they think about your service on the flight back home.
Customer focus groups – if you have a clearly defined customer segment (or more than 1), you can group a sample of your customers into small groups and have extensive conversations with them. By building on the ideas of each other, customers will be able to discuss what they like and dislike from your company, giving you clear pointers on how to improve.
Independent pollsters – similar to the above, you can ask independent pollsters to interview your customers. They could either be doing these polls through focus groups (without any of your company's representatives and with full anonymity), or they could call your clients to get their feedback.
Following up after the experience – imagine that you have just purchased a product (like a property through a real estate agency) and after the sale has gone through, you get a 2-minute call asking you how your experience was. Given that you had a lengthy relationship with the property consultant, you are likely to want to share your opinion about the consultant. Naturally, this puts your company into a very positive position with customers, as it shows them that you care, and also give you accurate information about what customers think of you.
A final comment
Some people think that 'no news is good news'. Meaning that if a customer doesn't approach them with a formal complaint, it means that they are happy. This could not be farther from the truth. It could be that they are so disappointed in your service, that they couldn't even bother to let you know. Instead, they have "blacklisted" your brand.
It today's world, there is plenty of opportunities for clients to voice their opinions and reach the mass market. Through the internet, and sites like Facebook or Google Reviews, a negative or positive experience by a single customer can be shared with thousands of people, from the comfort of the client's home.
Therefore, making sure to keep abreast of the current opinion of your customers is important. Depending on the number of clients that your business has, you will need to determine how many replies to obtain. If your company has 10 clients per year, you might as well have a formal/informal meeting with each. If you have 1,000s of clients per year, you might want to consider a statistically significant approach.