Service business working from home – Tips for 2020
Most service business have the privilege to keep on working, even with their employees at home. For some other businesses that is impossible (like manufacturing, and retail shops).
So, I encourage business owners to make the most of this situation. To look-ahead, because being hopeful, and working towards a better future is the only thing we can do right now.
As a country, we are now getting much more united. We have a common enemy – the Corona Virus. And that is leading to feats of solidarity.
I now invite you to take this spirit of belonging, of having a common ground and implement it within your business.
Get your team to start working together, sharing organisational knowledge, towards a common goal. For the sustainability of your business, that can ensure your employees' financial well-being.
In the end, when all this is over, you will appreciate that you had time to re-group, sharpen your tools, and be ready to keep serving your customers at the highest level.
Here are some ideas to help you to set up your business to have your employees working from home. Implementing this might take some of your time right now (of which you might have more than you are used to), but the benefits will last for as long as you keep on using these systems.
Client management
Get in control of the work that needs to be done and make sure that nothing falls through the cracks. Make a list of all things you need to do, take a deep breath in (you have this under your control), and start noticing the similarities, and start grouping the work into projects.
By client
By department
By team
One-off projects, and repetitive work, can be listed. Trello is highly suggested. Most service-businesses in Malta can use the free version. Here's an example for an accounting firm.

Use color code, like for sales. Green soon close. Orange prospecting. Red far off.
Can have a client in 2 boards, like Client 1 in the example – who is a client for web and advertising, or you can choose to or the clients in an alternative way, that best suits your needs.
Task Management
When every employee in your Service businesses is working from home, it is easy to for them to get distracted, and start working on tasks that don't add real value to the company. This is especially true if roles and responsibilities are not clearly defined.
Breakdown the work that needs to be done for each client/project into a checklist, within Trello, to have a simple to follow an action plan. You can assign tasks to colleagues, and set the due date.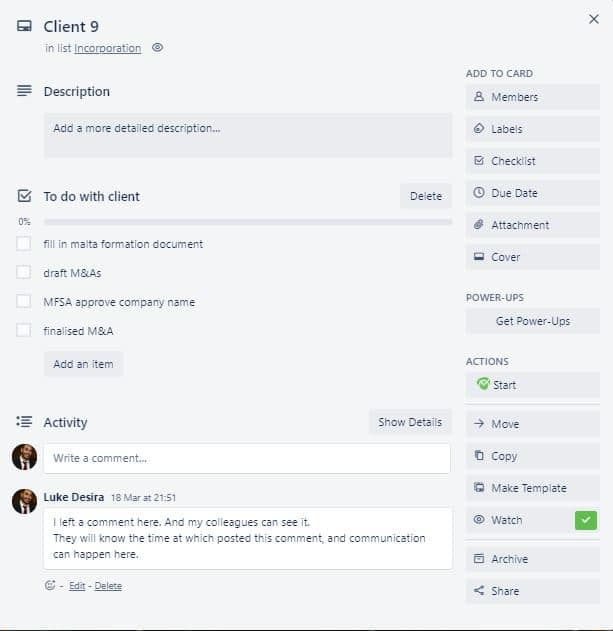 Communication between team-mates is possible however not it's not practical. For communication..
Communication
People are well hearted. When employees within your service business are working from home, that doesn't mean they will avoid work.
That said, when working from home people might get lost, engulfed by all the work they need to do. Encourage daily communication to help with direction.
Make a list of things that have to be done in a week, and catch up daily to discuss them.
Daily catch-up call
Teams do daily video calls for sprint review – quick max 30 mins. Whereby everyone explains what they are working on and ask any questions they want to get help and direction
WhatsApp, skype, Google Meet can all be used for video call. Right now Google giving premium version of Meet free until July.
Quick communication
Do group chats with relevant people (WhatsApp, or Facebook Messenger). I can suggest that you use slack, or another advanced IM tool, but there's no need right. Right now you need something to resort to when you or anyone with you team have a quick question.
Email
Mostly with external people and clients, and is used mainly to pass completed work, and information.
Reducing email is a subject on it's own (Suggested reading: The Hamster Revolution by Mike Song, Vicky Halsey and Tim Turress), but when working from home make sure to not drastically increase communication via e-mail between your team members.
Regular Meetings
Meeting can keep on taking place like they used to, for example to discuss client work, or to work on a project, in a team. These can be done using:
Zoom – a video call & screen sharing software
Google Meet – a video call & screen sharing software
WhatsApp, skype – video call
TeamViewer – screen sharing
File sharing & Infrastructure
If you are using modern software that is hosted on the cloud (like Xero.com for accounts, GSuite for email etc), then your operation can continue smoothly. If you IT infrastructure doesn't allow it, this must take priority (only if working from home is a long-term strategy – migrating a software is a big project).
Service businesses mostly deal with handling information, therefore using Dropbox or Google Drive to share documents between teams within the company is critical to ensure seamless work between different people.
Having an organised folder structure, will ensure that people will find files that their colleagues have worked on. You can store your files following the same structure as mentioned within 'client management', above.
Information Security
Service business working from home tend to use work laptop. If you are using PCs see whether employees can use their own devices, given that an IT Security Policy is in place. In the medium-term, it might be a good idea to consider implement ISO27001 the leading Information Security Management System.
Work-life Balance
For your sanity – maintain a (more) regular work routine. Create a space inside your home where you can work uninterrupted. And take advantage from the fact that you're home – eat well ?
Bonus: Level up your Service business working from home
Integrate Trello to Timecamp to monitor time that each employee has spent on each project. You can also generate reports to know, for example, how much time was spent between all team members, to work on a single client, or job.
This will you the visibility of the effectiveness at which work is being done, and how profitable you are on each client, better than ever before.
Conclusion
Working from home requires you and your team to be disciplined, by organising their work. Not working 'randomly' but rather, being on the lookout on how to improve the structure you are working with. A management system will help you manage your employees in a more structured way. In the long term, an ISO Certification costs less than you might think.
Don't worry, working from home, and implementing these changes might take some time for you to adjust, and you will find ways to improve the structure you will start with. The aim is not to start perfect, but rather to drive improvement through the management system for continuous growth.
The past years have been characterized by massive expansion on all fronts.
Until this Corona Virus thing happened. Now, fear spread faster than the virus itself, and people are starting to remember how vulnerable we humans are.
Authorities have started asking people to stay at home, all passenger flights inbound to Malta are temporarily suspended, and compatriots are being asked to come home.
Amongst all this chaos, I couldn't help but notice that the word 'home' is used. Home doesn't refer to the actual building having a nice view, or how large and nice it is…
Home refers to where one lives, especially as a member of a family (with people you <3).
It is now time to focus on what is truly important.